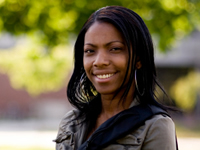 Name: Kimberly
Age: 23
Personal: lesbian
Height: 5`5″
Weight: 125 lbs.
Location: St. Paul, MN
Occupation: bar tender/student
Hobbies: Cooking, playing pool
Likes: deep, intelligent conversations
Dislikes: traffic and bad drivers
Hi, my name is Kimberly. I'm a 23 year old single girl from the greater metropolitan area of St Paul, MN. By day I am a student, by night I mix drinks and tend bar in an amazing club. I like my workplace so much that I even spend some of my free time there. I play on an all lesbian pool team sponsored by my employer. I like to think I'm a pretty good player.
I also enjoy cooking and am always looking for new recipes. I love getting a few friends together to try my latest culinary experiments on. Despite all of this I am actually a bit shy. My busy schedule doesn't allow for the time to go out and meet new people and get to know them well enough to know if they are someone I want to spend quality one on one time with.
I like all kinds of women, from serious butch types to frilly femmes. I just like to get to know someone and have fun doing it. I've found I prefer meeting women online and getting to know them through emails and IM chats before we meet in person.
That way it's like meeting up with a friend and it eases my nerves a little. I'd like to meet women who have similar interests to mine, but I'd also like to be able to broaden my horizons and learn new things. After all, isn't life all about growing and learning?
PRIVACY POLICY: We take your privacy seriously. HowtoMeetLesbians.com does not place cookies of any kind on your computer or collect any personally identifiable information. This is a free site. We are an authorized affiliate of some sites that may appear on this site, however, you are never under obligation to make any purchase to access all the content on this site. Please contact us if you have any questions regarding this privacy policy.